A great way to get started on your study abroad journey is to attend a Study Abroad 101 Info Session. By attending this session, you will learn the answers to these questions:
What exactly is study abroad?
Why should I study abroad?
What types of programs are available?
Where can I study abroad?
How much does it cost?
What kind of classes can I take abroad?
In this hour-long info session, you will also have the opportunity to speak with former study abroad students, hear about their experiences and ask any questions you may have. If you're interested in a specific region or country, immediately following each session, Study Abroad advisors will be available for more detailed advising.
Below is a schedule of upcoming info sessions. We hope to see you there!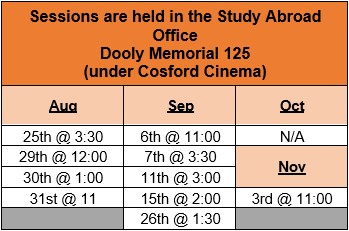 While attending an in-person Study Abroad 101 info session is ideal as it allows you to interact with Study Abroad advisors and returned study abroad students, we recognize that the above schedule might not work for you.  In light of this, you can access the Study Abroad 101 info session at your convenience by viewing the presentation below.  You can start and stop the presentation at will; however, if you plan to view the entire presentation in one sitting, you should allow about 30 minutes.
Make sure that your audio is on as additional information is given in the recording on each slide.
[Insert Presentation]